We use the most up-to-date technology to ensure the best eye care possible. Here are some of the different types of tests and equipment you may experience on a visit to our Practice.
Digital Retinal Imaging
Retinal imaging is a great tool in the early detection of retinal and systemic diseases. The images are used to detect diseases such as diabetes and macular degeneration, and the images are a critical piece of the diagnostic puzzle in confirming the health of the retina, optic nerve and other structures. You will hear us say that a picture of the retina is worth a thousand words and gives information that rivals a mini-physical exam.
Digital Phoropter
The digital phoropter is used to get the best possible prescription for your new glasses. You will appreciate the updated technology and actually find it easier to make decisions during your exam due to the simultaneous viewing during the examination.
Visual Fields
The Frequency Doubling Technology (FDT) visual field instrument is the latest in technology and is a quick and easy screening of your peripheral vision.
Smart Mirror
The Smart Mirror allows you to see several different images of yourself with different eyeglass frames on, side by side. You can put your own glasses on to view your pictures and assist in your decision about which frame looks the best on you. The Smart Mirror also has a feature that will allow you to see how you look in colored contact lenses without having to put them in your eyes. You can narrow your choices down before trying on your favorites.
Non-contact Tonometry
At Adlington Eye Center we believe that eye exams should be as comfortable and accurate as possible. The non-contact tonometer (NCT) is more often referred to as the "air puff" test. A very light puff of air is directed at your eye and the pressure in your eye is measured. This is an excellent screening method for high pressures which may be associated with glaucoma. There are times when other methods of assessing pressures may be performed, such at Goldmann tonometry (GAT), at the doctor's discretion and, of course, with your consent and thorough education.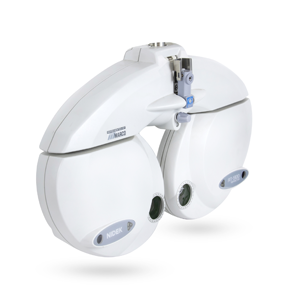 Nidek RT 5100
The RT-5100 fulfills the operators' two dreams: Sophisticated design and comfortable examination. Its stylish design perfectly fits in a small space, providing a quick and accurate exam for both operators and patients. The RT-5100 offers quick and smooth lens changes, allowing the operator to show minute changes of prescription at the touch of a button.